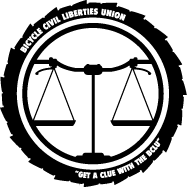 Bicycle Civil Liberties Union
Idaho Law is heating up.
Numerous states have initiatives to adopt a version and research shows public safety benefits from stops as yields law. BCLU has been a proponent for over ten years.
---
The Bicycle Civil Liberties Union (BCLU) champions equal treatment for those who do not drive, especially bicyclists and pedestrians (including people who use wheelchairs). Show your support by learning your rights, fighting for equal treatment, lending your stories of rights violations, and adding your name to the supporters of our mission.

Want to assist the BCLU reaching for a new level of effectiveness? Contact us!
---

Victory for the Berkeley Bike Station Expansion!
Please give thanks: Read more here
---
---