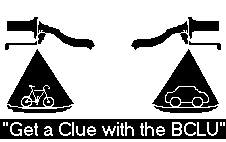 Bicycle Civil Liberties Union (BCLU)
---
BCLU Contacts

The BCLU is now pursuing 501(c)3 status and to reach a much higher level of effectiveness.
Note, this page needs updating to include many more people and the list of supporting attorneys.
Our wish list includes web help (hint hint).
---


Main address:

Bicycle Civil Liberties Union 
P.O. Box 15071
Berkeley, CA  94712-6017

Web: http://www.bclu.org/

Main contact person:

Jason Meggs
California State Coordinator
Phone/Fax via (510) 486-1528
Cell phone (510) 725-9991

Email:  jmeggs account @ site bclu.org




---


South Bay:

Gladwyn D'Souza
Santa Clara County

408-857-7347

email:    gdsouza *-AT-* atmel.com

Statement of intent.



---


An historical note...



Web philosophy: the BCLU page was originally part of a project to include
numerous groups and resources in a fast-loading web tree with minimalist
design, and a focus on content not glitz.  That was also the era of 
major objections over frames, when the text-only lynx browser was
a quick way to do just that (see the text quickly).  It was also in the
days when 28K modems were not uncommon, and DSL was all but unknown...
in some ways, google has since pursued this strategy, but in the form
of information retrieval via web search. 



---
Back to the Bicycle Civil Liberties Union.

Back to the Bike the Bridge! Coalition.