Bike Activism Archives

A number of classic Bay Area web pages have gone out of service for various reasons. We are working to archive them here. If you have materials to be added, please let us know.

BCLU Announces Tristan Anderson Bicycle Fund!
Mini-grants now available for spirited bicycle activism and to Tristan's ongoing recovery.

Tristan contributed much to bicycle activism in the Bay Area with his principled, festive, and highly creative, indefatigable initiative. To keep his spirits with us and support him in his ongoing recovery, the fund is intended to enable small but vital creative bicycle activism projects that continue Tristan's unique legacy.

Tristan made a difference in the intense campaign for equal access to the San Francisco-Oakland Bay Bridge and for other bridges, beginning in 1996. (As of this writing, January 16. 2010, the West Span campaign is in full swing, 10+ years later).

At one Richmond-San Rafael bridge protest, Tristan was so inspired by the drift wood, styrofoam and other detritus found washed up under the bridge, that he created a working raft! With other bicyclists joining him, Tristan floated into the bay on the raft, the group holding their bicycles high overhead to illustrate our determination to cross to Marin, as well as to illustrate the insanity of banning us from the 12-foot shoulder.

Of his many efforts, Tristan traveled to Sacramento repeatedly for bicycle advocacy, including a campaign to protect the civil rights of bicycle demonstrators in the state capitol, who were being brutalized and falsely cited and arrested by local police for riding (see our pages here. Other archives were recently lost to hard drive failure and are being recovered).

As a result of those problems in Sacramento, BCLU organized a lawsuit which won a settlement, making this fund possible. Applications can be sent to the BCLU.

Tristan is recovering from a severe head injury suffered when the Israeli military shot a high velocity, extended range metal teargas projectile directly at him, in violation of its designated use. Tristan often traveled around the world as a human rights observer and independent media reporter. A website has been created to support his recovery: http://justicefortristan.org/

Victory for the Berkeley Bike Station Expansion!



After over ten years of advocacy, five years of planning, and the
securement of over $1,000,000 in funding, the City of Berkeley has
committed to funding the expanded Bike Station on Monday, Dec. 8
at City Council, preventing the entire effort being lost.  

Please send thanks to the Mayor and City Council via the clerk,
clerk@ci.berkeley.ca.us

Please also send thanks to BART staff who worked so hard to see this
project through, and to BART Director Bob Franklin:

BobFranklinBART@aol.com

(Ask Director Franklin to let staff know how pleased you are.)

A mere $30,000 more per year was required for five years to allow the
project to go forward.  This is funding which is readily available and
which was created through the hard work of local bicycle advocates,
who have also championed the vision of a true downtown Berkeley
bicycle support center and who have followed bicycle issues in
Berkeley for many years.  Importantly, the funds are a worst-case
guarantee that the rent would be paid; the City would likely not
need to spend much as the project has a proven and viable business
model.

There is no better use of the City's bicycle funds at this time;
moreover, bicycle projects have been stalled for years.  At this time
of pressing concerns about shifting away from petroleum and mitigating
climate change, improving public health, and rising fuel prices, to
not provide a support system is to say NO to bicycling needs again in
Berkeley.  The new bicyclists taking to the streets are most at
risk for injury and need access to classes, secure bicycle parking,
and more which an expanded, street-level Bikestation would provide.

The City should designate new sources for funding bicycle projects
as current funding is inadequate and inequitably so.

There are many sources of funding that can be used to guarantee the
lease and not lose the grant.  Currently many of these have been
misappropriated to pay for automobile parking projects when they
were intended for encouraging and supporting "alternative" transport.

See photos, a brief discussion and links to council video and debate
on EBBC webpages via the following IMC News Story.

PLEASE CALL THE MAYOR TODAY!  (510) 981-7100

PLEASE CALL AND WRITE CITY COUNCIL:
clerk@ci.berkeley.ca.us

More info: Contact Jason Meggs, jmeggs AT bclu.org, phone (510) 725-9991.
Dateline: DECEMBER 2008


Save Oakland Critical Mass


Oakland Critical Mass meets on the first Friday of each month.  On February 2, 2007,
Oakland Police, using a helicopter and numerous squad cars, blocked traffic to detain
nonviolent and peaceful protesters.  A large number of citations were issued.

Demonstrators intend to continue and are decrying this misuse of public resources.
At a time when concerns about global climate change due to global warming, and crime
in Oakland are both at an all-time high, how can using limited public funds and 
police resources to suppress the long-standing tradition of Critical Mass 
demonstrations make any sense at all?

BCLU is working with the demonstrators and investigating the incident.
Contact Jason Meggs, jmeggs AT bclu.org, phone (510) 725-9991.



The Boalt Hall Environmental Law Society Speaker Series presented:

=====================================
BIKE LAW: an advocacy perspective.   

Join attorney Dave Campbell and activist Jason Meggs as they discuss the many
legal arenas of the Bay Area's exciting bicycle movement: from local planning
to statewide legislation; from CEQA to the vehicle code; from arrests in the 
streets to civil rights suits in the courts.  Where instructive, they will   
touch on related issues of alternative transportation including mass transit,
disability accomodations and access, and pedestrian rights.  Campbell will   
spotlight recent landmark cases.  Meggs will share illustrative video footage
from a variety of real-life incidents including a bicycle protest across the 
Bay Bridge, Critical Mass demonstrations, and "street law": asserting one's  
rights when challenged by authorities.

Date: Wednesday, February 9, 2005
Time: 12:45 - 13:45
Place: Boalt Hall School of Law, UC Berkeley Campus
       Bancroft between Piedmont and College Avenues
       Room TBA -- look for signage.

Contact us if you would like to host this presentation.
=====================================
Save New York City Critical Mass!
Congratulations -- we didn't let a bogus injunction go unchallenged.
Save Vista College Transportation!
Don't let $3.6M be wasted on special interests.
A letter decrying the most recent of two incidents in which a professor was killed by motor vehicle in Berkeley, California.
Experience Carfree Morocco
Slide shows occurred throughout the Bay Area April 20-May 2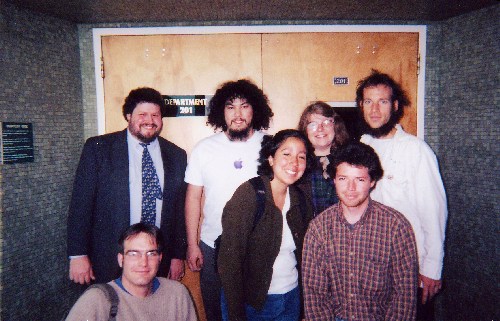 Support Civil Rights. Critical Mass riders are suing the Berkeley Police Department as a result of a campaign of harassment, violence, and other civil rights violations suffered in 2001. As of May 24, 2004, our latest copies of documents:
Protect people using wheelchairs in the roadway. Justice for Fred Lupke.
Justice for Sharon Spencer.

BCLU decries Governor's Drive-Thru Day
Working towards an end to the discriminatory and disingenuous anti-bicycling campaign by the University of California police. See abuse reports, UCPD BAD FAITH AND CONCERN OF ANTI-BICYCLE PROFITEERING .
Ongoing meetings between Berkeley Police and participants in Berkeley Critical Mass. These meetings cover a much broader scope than Critical Mass. Past minutes online include the first four meetings (beginning in October 2001):
Support Sacramento Critical Mass! For the latest see this page. Everything that follows may be out of date. The next ride is April 4th, 2003 and then May 2nd. This campaign was going very well, until the recent return of police harassment in 2003, and except for the case of assault and attempted citizen's arrest and a recent case of motorist violence. However, the October 5, 2001 ride was a true victory! Police changed their goal to "zero citations" and in the end were facilitating the group through red lights at the rear (when the group would otherwise have been split up). They also allowed the sound system (which is actually not illegal, but police had repeatedly confiscated sound systems and issued false citations). What joy at the end of the ride -- this new attitude from the Sacramento Police Department is QUITE A CHANGE from the previous rides -- just a month earlier one witness heard police say the plan was to "give them as many citations as possible to make them all go home". The BCLU campaign will continue. For photos, stories and ideas from the starkly contrasted previous ride (September 7th, 2001) check photos and stories at this location, and for September's press releases, check here. Amtrak directions from the Bay Area will be the same as listed there as well. Recent rides have run into police repression, such as listed at the first link and as described for the August 3rd, 2001 ride, but the BCLU and others are working to guarantee the right to ride safely and legally by bicycle in the City of Sacramento. More information and local web pages coming soon. We will continue to hold monthly permitted rallies on the steps of the Capitol Building from 5 PM before the community bicycle rides take place (leaving as early as 5:30 PM), and will continue to accompany the rides to help protect their right to ride safely and legally -- particlularly when demonstrating -- in the Capitol city. Support alternative transportation in California!
The City of Berkeley, in illegally prohibiting bicycles from the University Avenue overpass, has also made it illegal to bicycle and even walk in large portions of the City. BCLU has submitted this proposal for the rescinding of this unjust law. Also please check out this article (despite its inaccuracies) in the Berkeley Daily Planet. Letters to editor to follow.
The City of Berkeley appears to be illegally charging bicycle riding on sidewalks as a MISDEMEANOR!
September is Car Free Month! See our list of events from the year 2000.
We hand-delivered this letter to Governor Davis in Sacramento after he failed to include ANY funding for bicycle and pedestrian infrastructure in his $5.3 BILLION surplus package (the largest transportation budget in the history of California). We gathered over 1,110 signatures in just two days after the Assembly passed his budget. We also sent the letter with the following cover letter to a number of legislators;
When the Governor not only failed to provide funds for bicycle and pedestrian planning in the budget but slashed ten of the fourteen bicycle coordinators proposed for Caltrans, we had no choice but to call for direct action across the state and issue the following press release;
Projects underway in Berkeley in hopes of becoming statewide improvements (where applicable):
Berkeley Nonmotorized Equality Ordinance, 1998 -- this ordinance has not been finalized, but many of the ideas are being implemented via the Berkeley Bicycle Plan and the project was a useful exercise;

Reduction of bail for bicycle violations (e.g., $271 for a red light is outlandish!);

Battling the Underhill project of the University of California at Berkeley, which proposes to build a huge subsidized parking garage while students would prefer a place to live (and walk to school);

Attempting to examine the subsidy of parking at the Berkeley YMCA, the lack of proactive efforts to support and encourage alternative transportation, and lack of adequate secure bicycle parking there (the YMCA is a #1 bike theft sport in downtown Berkeley), which would appear to contradict the mission of the YMCA. See this letter to the editor (Dec. 18, 2001).

Looking for ways to phase in "carfree" areas of cities to enhance livability, transit, affordable housing, social equity, bicycle and pedestrian safety, access for those who do not drive (especially seniors), and more. A new book, Carfree Cities, is available (in Berkeley, check Cody's books);
July 25th: The Secret is out! Critical Mass documentary;
The Bike the Bridge! movement for equal access. Our involvement includes preparations for legal challenges and helping to defend bridge biking activists who have been arrested or ticketed. Here is a partial list of our projects for this effort;
Justice at Critical Mass events. Our efforts include organizing legal observers; helping to defend those who have been falsely arrested or falsely cited; investigating the possibility of a major suit; and investigating the possiblity of an injunction against the police for their civil and human rights violations including harassment, selective enforcement, assault, and other crimes;
Ending the unjust taxing of and refusal of bicycles on transit:
In hopes of correcting the extreme subsidy of automobile parking at BART (where in general, there is no secure bicycle parking and often poor accessibility for pedestrians, but huge amounts of very expensive "free" automobile parking plus a police force to guard it);

Ending the illegal requiring of a box and charging of a fee for bicycle luggage by common carriers (e.g., airplanes, buses including Greyhound, ferries, trains) that allow luggage/baggage (which violates Civil Code Section 2180, " A common carrier of persons, unless his [sic] vehicle is fitted for the reception of persons exclusively, must receive and carry a reasonable amount of baggage for each passenger without charge, except for an excess of weight over one hundred pounds to a passenger" and Civil Code Section 2181, "...no crate cover or other protection shall be required for any bicycle carried as luggage, but no passenger shall be entitled to carry as luggage more than one bicycle";

Removing the new (as of July, 2000) $1.00 surcharge on the Blue and Gold Ferry fleet;

Increasing the ability for drivers/operators to use discretion for allowing more bicycles on transit, and firming up rules so that anti-bicycle operators would be directed not to refuse a bicycle in certain situations (e.g., nearly empty bus, or unusual need such as a broken bicycle);
Constructing materials to educate cyclists in how to fight for their rights;
Studying inequity in transportation planning (two great sources are the Surface Transportation Policy Project (STPP) and the Victoria Transport Policy Institute (VTPI));
Taking submissions of abuse reports and compiling data of abuses;
Hoping to make it easy to report violence and negligence by motorcar drivers either by phone or internet. A notice would be sent to the driver based on the license plate. This type of system is being used for citizen traffic enforcement "stings" already. Such a system could eventually be handled at the statewide level and may one day have more teeth, but so far efforts have been at the local level and the notices are simply advisory. Such a system (sending warning notices based on license plate) is already being provided by the Air District (1-800 Exhaust, exhaust-AT-baaqmd.ca.gov), for reporting smoking vehicles. The BCLU has created a web page and animated GIF to make this easier. Feel free to add this feature to your pages;