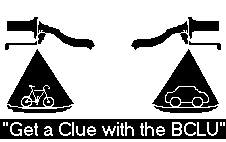 Radical Bike Resources -- Advocacy
Bicycle Civil Liberties Union (BCLU)
Case Histories -- Abuse Reports
---
Too many to count...will be adding more over time. Note that due to time and technical constraints, the BCLU abuse reporting system was disabled for about two years. This site needs to have a PHP or other automatic interface so reports are generated immediately and without precious volunteer time.
---
To submit an abuse report.
---
Back to the Bicycle Civil Liberties Union.

Back to the Bike the Bridge! Coalition.