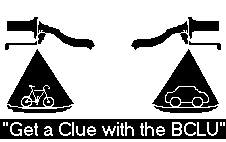 BPD-CRITICAL MASS PARTICIPANT MEETING MINUTES:

Date of Incident:
Received:





---------- Forwarded message ----------
Date: Thu, 14 Feb 2002 19:15:43 -0800 (PST)
From: Jason Meggs [jmeggs-AT-bclu.org]
To: clerk-AT-ci.berkeley.ca.us
Cc: BFBC-Talk [bfbc-talk-AT-stat.berkeley.edu],
     SFCM list [sf-critical-mass-AT-topica.com],
     Carolyn Helmke [chelmke-AT-ci.berkeley.ca.us], police-AT-ci.berkeley.ca.us,
     Don L. Brown -- Disability Commission [DLBrown-AT-ci.berkeley.ca.us],
     prc-AT-ci.berkeley.ca.us, ritabond-AT-uclink4.berkeley.edu,
     manager-AT-ci.berkeley.ca.us,
     Stephen M. Wheeler [swheeler-AT-uclink4.berkeley.edu],
     D. Mark Abrahams [dma-AT-stat.Berkeley.EDU],
     California Bicycle Coalition [cbc-AT-topica.com],
     "Hester Jr., Wesley" [WHester-AT-ci.berkeley.ca.us],
     Officer Pierantoni [cpierantoni-AT-ci.berkeley.ca.us]
Subject: BPD-Bicycle Meeting Minutes Feb. 7, 2002

Mayor and City Council, and other interested parties:

Enclosed, please find the latest minutes from the ongoing meetings
regarding police/bicycle relations.  These meetings were convened by a
directive from City Council.  Participants in Critical Mass bicycle
demonstrations have been meeting with Sgt. Hester and others from the
Berkeley Police Department since October of last year.  The next meeting
date has not yet been set.

Thanks to Taj Johns of the City Manager's office for participating in this
meeting.

The minutes are pasted below.
 
Sincerely,
 
Jason Meggs, Director
Bicycle Civil Liberties Union 
P.O. Box 15071
Berkeley, CA  94712-6071
 
WEB: http://www.bclu.org/
 
Office:    (510) 643-6768 (w)
Facsimile: (510) 486-1528
Pager:     (510) 720-2818

CC: Planning Dept., Disability Commission, Bicycle Subcommittee of
Transportation Commission, UC Berkeley Bicycle Subcommittee, City
Attorney, Police Review Commission, Police Department, Sgt. Hester and
other officers involved, Bicycle-Friendly Berkeley Coalition, California
Bicycle Coalition, SF Critical Mass email list, ba.bicycles and
ba.transportation newsgroups.

=-=-=-=-=-=-=-=-=-=-=-=-=-=-=-=-=-=-=-=-=-=-=-=-=-=-=-=-=-=-=-=-=-=-=-=

Meeting of Critical Mass participants with Berkeley Police Department
February 7, 2002
Au Coquelet Cafe 

DRAFT MINUTES v. 2, by Jason Meggs
Release date: February 14, 2002

The following people were present (preceded by a shorthand for the
transcription):

Present from the City of Berkeley:

TJ: Taj Johns, City Manager's Office
SH: Sergeant Wesley Hester, BPD #S-1
OP: Officer Pierantoni ("Cas"), BPD #96 (South Berkeley)

Present from Berkeley Critical Mass:

EH: Eryn Hughes, Critical Mass participant
TM: Tom Martin, Critical Mass participant
JM: Jason Meggs, Critical Mass participant and Director of the BCLU
CP: Christine Peterson, Critical Mass participant
SP: Sean Potts, Critical Mass participant 
RU: Rick Ulen, injured cyclist, Critical Mass participant

Past minutes including agendas, proposals, and the SF Resolution are
posted at http://www.bclu.org/projects/

Note, the following are attached below the minutes:

 1) Officer Pierantoni's rejection
 2) Sgt. Hester's clarifications

DISCLAIMER:  It's tough to take minutes, tougher to do so and also
participate in the meeting.  I try wherever possible below to accurately
restate verbatim what people said, or to closely match what they appeared
to be trying to communicate.  At times I use conventions to shorten what
was said, often because my notes were by necessity shortened.  Many things
are difficult to capture even if they aren't happening so fast -- such as
nods, grunts, shrugs, inflections, gesticulations, and multiple people
chiming in at once, etc.  At the very first meeting, Sgt. Hester did not
want us to record the meeting.  Now that there are objections to these
minutes -- which are laden with my comments, but which first solicited
comments from all present, so everyone could have had comments included --
perhaps it's time to begin recording these meetings so that disagreements
can be resolved as best possible.  It takes a lot of work to put these
minutes out and I do strive for truthfulness and fairness.  The
publication of these minutes was delayed half a week to better assess
whether the minutes were ready to be made public.

[begin]

SP: Sgt. Hester, you were going to look into getting traffic statistics?

SH: Matt Meredith was to get info today, but he dislocated his shoulder on
Grizzly Peak last night.  Two down right now.  [JM: Evidently this was a
different officer, based on Sgt. Hester's clarifications below. ]

JM: Ironic, losing people who are supposed to be helping with safety, to
traffic incidents.

SH: That's big money for the city -- traffic violations.  Should have data
w/in a few days, may be locked or password protected.  Can fax or forward
depending on form.  Definitely should be available within a week.

SH: Bad news for bicycle diversion idea.  Neither the Chief or Alameda
County judges want diversion at the county level for bicyclists.  Alameda
County judge [sic - Commissioner] Rantzman is a part of the Traffic
Subcommittee.  Just about unanimous that the bicyclists are asking for a
lot, as opposed to motorists who don't have the same thing (outside of
traffic school).  Bike violations not on driving record.  "No risk".  
When cases go to court, Rantzman's policy is to reduce the fine.  
Rantzman says he weighs the egregiousness versus what he knows about a
particular person, their tendency to get citations.  Our Dept. does not
agree with the idea of a bike diversion program.

[JM: No comment was made about the discrimination implied here].

SP: Are you [Taj Johns, CM office] familiar with the concept?

TJ: No.

SP: Bike safety class option after a ticket to reduce if not negate fine.

JM: Sorry to hear that there is that perception. Is this subcommittee a
public committee or a private one?  Can we write to them?

SH: Judge Harry Sheppard is the chair, his clerk's number is
(925) 551-6829.  

JM: And it was "nearly unanimous"?  Who disagreed?

SH: One exception was mentioned -- regarding holding diversion for
juveniles but not adults.  They felt adults had to be responsible for
themselves.

[Not clear if this means they would be willing to set it up for
juveniles].

JM: You know Comm. Rantzman is often refused by bicyclists because of his
history of not knowing bicycle rights and of being biased.

SH: People judge shop, because they have that right.  They judge shop to
get a more lenient judge.

JM: The issue for me is not leniency, it's fairness.  There is an
important reason why we have the right to refuse a commissioner.

SH: The big issue for us is cost.  I wrote Dave Campbell [President of
Bicycle-Friendly Berkeley Coalition, BFBC] why we can't give a letter of
support.  Need staff.  Staff equals time, time equals money.  Probably
won't for a while.

SP: Civilians could teach it, separate from police budget?

SH: Walnut Creek hired a certified trainer/educator, minimum ten per
class, the class fee helps pay for the trainer.  [passes out literature on
the WCR progam]

CP: Here are two good handouts [being passed by TM, the same ones that
were shown last meeting, one is "Street Smarts" (yellow cover, available
at Bike Station from BFBC) and the other is the "Safe Cycling in Contra
Costa" pamphlet, pink, with lots of important and good everyday bicycle
info, based on the "Urban Cyclist's Survival Skills" book (title?).]

TM: The must be money for that at least?

SH: I can't just spend money.

TM: Who got the AAA pamphlets?

SH: Traffic.  Used to have roll call training, 10-15 minues, plus hand
outs.  Usually sanctioned first.  Can pretty much tell you if it costs
money, we won't do it, if it's free, we'll consider it.  Then ask
officers, hey, use these at your discretion.

SH: The rules of the road are simple, who needs a handout.  Don't run stop
signs and red lights.

Bicyclists: Lots more than that!  How to fit helmet, riding wrong way,
sidewalk rules, how to lock a bike, how to keep pants from getting caught
in chain, etc. etc. etc.

SH: We're law enforcement primarily.  Education, maybe.  Locking bikes
doesn't draw our attention.

TM: But it can help prevent bike theft!

JM: Well the Bike Plan says we should do diversion and generally education
including law enforcement being involved in education, so the Council
knows we need to find the funds.  It doesn't necessarily have to come from
the BPD budget.

SH: Carolyn Helmke must have money.  Don't know how much AAA costs.

JM: That's a good idea, use bike funds to supply your officers with
pamphlets.  And I would hope officers would be directed not to use the AAA
pamphlets at all. That's been brought up repeatedly, and as you know
there's a complaint about those pamphlets right now at the PRC.  But I am
very glad we finally have an idea of how we could solve this problem
(which has been brought up now for months).  [JM: not sure if anyone took
responsibility for contacting Carolyn Helmke, the City's new Bicycle
Coordinator, I will write to her].

SH: Looks like nice pamphlets but...

[Rick Ulen arrives]

JM: Everyone this is Rick Ulen who unfortunately was recently struck by a
car and seriously injured, although he's making quite a recovery.

RU: Oakland is a lot more brutal than Berkeley.

JM: But everyplace needs improvement.

SP: Let's get back to training for the Department, can we look at the SF
resolution? [See past minutes, posted at http://www.bclu.org/projects/]

SH: I'm not prepared to talk about that.

JM: We've talked in depth about this repeatedly for months, I would hope
we could continue to talk about it now.  We appreciate that there is some
training for officers but it is very clear that the Department needs more
attention here, given all that's been learned and all the incidents we
know of.  This issue is very important as it affects everyone's safety,
the officers' safety, the general public's safety, the education of people
officers deal with, and the finding of fault at crash scenes.

[Berkeley special speech here?  See past minutes].

SH: It's not a problem.  No one is reporting any problems to the
Department.  You're the only ones who have any problems, we don't know of
anyone having any problems, so there aren't any problems.  Certainly, the
issues you've raised and the things posted on your website [JM: presumably
http://www.bclu.org/ ] if they're true, those are problems, but no one
else is reporting these things to us.

JM: You mean that a committed group of citizens who has been trying to
bring these problems to your attention for years counts as "nobody"?  
We've been over this again and again.  Everything which has been learned
at these meetings, everything we've been reporting from everyday life,
points to serious problems which need to be addressed, and training is one
very standard and indispensible way to begin to address it.

TJ: How big are you as an organization?  How many people?  I've worked
with a Police Department for seven years, and this type of thing best
works as a partnership.  You have knowledge which maybe the officers don't
have.  At Berkeley Community Media, you can join or $25/year and make a
video.  How can you both stop saying "You do this for me".

CP: How difficult is it to set up a roll call training?

SH: Not difficult.

TJ: Videotapes work better.

CP: Tape is a good idea.

TJ: And what about Walnut Creek?  Ask the judges.  [not sure if I missed
something here]

SH: The Judges don't appear to want to do it.  Could withhold citations
locally but the problem of signatures legally binding but if a higher
authority gave us permission....but we don't want to do it.

[JM: Wondering when and if Rantzman is up for re-election]

RU: Some years ago Joyce Mills, with Berkeley Public Health, was holdin a
helmet giveaway.  At MLK park, they had a bicycle rodeo but no one came
and they only gave away a half-dozen.  I asked her if she'd tried going
directly to West Berkeley.  I worked at it almost two years, the first
turnout was just 7 people, 3 of whome were actually from Richmond and
misreported.  I spoke with Officer Lester, we grew up around the same
street -- to give out a couple citations so the word go out, then give
them out to kids, let'em work it off.  One Christmas I saw 15 new
bicycles, not one helmet.  Childhood injuries from personal experience are
realy tragic.  Personal understanding in BPD, lotta good guys can go into
the schools.  And show them the panoramic teechnicolor of my side in the
video Jason Meggs took of my injuries.

JM: I've got it right here.

TJ:  We could see if Public Health nurses have money or resources.

SH: [Excited]. You have good ideas.  And you have clout.

JM: That sounds great but let's also look into whether Physical Education
programs in schools can do something.

RU: Start with the young folks!

OP: Asking you all as a person, not as a police officer [note: He was in
full uniform], where does personal responsibility come into play?  When do
people need to take it upon themselves to learn to ride a bicycle safely?

JM: Sure, everyone needs to be personally responsible.  But we have a
whole framework to train drivers, we have driver's education, and it's
mandatory.  No one is doing that for bicycling, but it needs to be done.  
In countries where they've integrated bicycle safety training, they see
the benefits.  In the Netherlands they start in Kindergarten and keep it
going all the way up and their bicycle fatality per million miles
travelled is about 1/13th what it is here [in no small part because
drivers are also more aware].

OP: I stop people on bikes all the time and I've had not *one* complaint
about a bike stop.  They all thank me.  Bad stories travel a heck of a lot
farther than good ones.  I've been on west end beat 16 for 3 years. [JM:
Not sure if I got this last part about "beat 16" correctly or what it
means].

[JM: No mention of the fact that OP is named in a PRC complaint right now
about a false arrest incident at Critical Mass August 10].

CP: I've been in three accidents [sic -- crashes] in Berkeley , all of
them definitely the car's fault, and gotten insurance payments for all
three.  One, hit from behind by car mirror.  Two, door [?].  One, a
16-year old turning right who didn't even understand the concept that I
had the right-of-way.  The point is that a bike making a traffic violation
is one thing, but a car making just a small mistake can *kill* you. And I
wasn't as angry when living in smaller towns before Berkeley, but after
living in Berkeley I understand that's why you see sixty people at
Critical Mass each month.

OP: So *who* do we have to educate?  Those were problems with drivers.  
I'm a little at a loss.  

JM: Everyone. 

SH: Who?  No enforcement effort on our part.

EH: Discretionary.  We had talked about motorists' [???]

SH: We see crazy drivers every day, write tickets.  Only way to change
behavior.  Inconvenience them, cost themtime and money.  And that's what I
tell all of my officers.  After 24 years of law enforcement I can tell
you, *that's* what works.

TM: No educational?

SH: Well, a stop involves education.  But when you get the feeling someone
is just going to go out and do it again, you cite them.  I give more cites
to motorists.  But don't like, ride through a red light at Allston and
Shattuck right in front of me with all the Berkeley High School kids
everywhere, I don't think so!  I gave that guy a citation today.

EH: Recruiting now?

SH: Different divisions: sex crimes, drugs, etc., people apply.  About 20
injured right now.  Mostly hurt backs, chases, thrown out knees.  Lotsa
back and knees.  Bke guys, we stay relatively healthy.  Pretty lucky.

EH: Discretion?

SH: Everyone's to abude by general orders.  Meggs probably knows.  PRC
would have.  I can't hand out.

EH: But what does it say?

SH: Don't let Jason put this in the minutes, it's just my attempt... XXXX

OP: Discretion is not black and white.  That's why long hiring process.  
Looking for common sense.  Year and a half hiring.  Weed out a lotta
people.

EH: If so hard to undestand --

OP: No not hard, just hard to become police officer.

SH: There are cops...

RU: Jason are you still doing YMCA beginner bicycle class?

JM: No not after their intransigence about basic improvements for
alternative transportation and the battle over subsidized parking lots
downtown.

RU: I've got a lot of time right now because of my injury, I'd like to
help.

JM: That's great, we should look into doing some.  Especially to reach a
lot of kids, those classes mostly reached some adults.

RU: It sure helps people, I don't know if you saw that letter to the
editor from that mother and daughter but it sure helped them out.

[somewhere around here, not sure where, TJ from City Manager's office
leaves].

SH: This is not on your agenda but I met with Carolyn Helmke a few weeks
ago about the sidewalk signage issue.  She's gonna design posters which
emphasize safe riding.  There were some complaints about those posters

JM: I don't have any suggestion about how to improve the poster off hand
but I don know about that issue, that the big "NO BICYCLES" [with a red
circle slash] was considered the wrong way to put out the message if the
city's trying to promote bicycling.  But sidewalk riding has been on our
agenda for a while, item 9, about the Department supporting relaxing the
sidewalk rules such as not making it a misdemeanor, allowing people with
disabilities who are being slow and yielding to pedestrians respectfully,
etc.  Like I saw someone today with a blue wheelchair symbol on his bike
ridin on the sidewalk on north Shattuck, and we know a lot of people [JM:
see last minutes] who this affects.

SH: We don't have the ability to take a position.

OP: But that's just the letter of the law.  No officer is going to cite
someone with a disabled sign.  Who cares about the letter of the law.

JM: Well then why have laws if you don't care what they say?  [JM: Long
rant, case of person with hurt back who got citation described, lots of
examples, how just because students new in town don't know it's illegal,
others who need to use the sidewalks do know and won't use them when they
should be allowed to in some circumstances, because of the letter of the
law, and how the person cited was found guilty before Commissioner
Rantzman because of the letter of the law, etc.]

TM: Lots of streets very dangerous.  My commute would be too dangerous,
time consuming to walk.  Provision for bicycles hasn't been adequately
made.  85% of [???]

JM: I can raise a lot of issues here about this but the real core issue
is, why can't the Department consider this and give support if it can, we
know the Department does for other issues and in past meetings you said
this sounded like something the Dept. could support.

SH: I will ask my Captain, and he will either answer or send it up to the
Chief.

SP: How long?

SH: A week?  Probably a week.

JM: I'll write up a brief proposal that you can show them.  Obviously
we're not trying to make things more dangerous for anyone, we want to help
people not hurt them.

RU: Hey I haven't ridden as much on the sidewalk in years, until this
injury [JM: from being struck by a car in the street].

SH: Get a lot of complaints from the disabled about bikes on sidewalks.

JM: Has anyone every been injured by a wheelchair on the sidewalk?

SH: Oh yes, definitely.

JM: I mean, a wheelchair is what, 300 lbs., much wider than a bicycle,
closer to a car in size, and I've actually had someone in a chair run it
at me to try to ram me, and I think that could cause injury.

SH: Yes and some of them get up to 10 MPH or more.

JM: But we allow them on sidewalks because they need to be there.

SH: Anything special this month's CM ride?

SP: Um, could be some kissing.

EH: Maybe even while riding.

UK: Kissing while riding legal?

JM: I think it is but not advisable.

UK: Is it possible?

JM: I've got the video of it! [ :) ]

[Somewhere, maybe around here, CP leaves]

JM: Would it be possible to get statistics on injuries by wheelchairs?  I
assume it wouldn't be a lot [JM: just like with bikes] but it would be
helpful to know.

SH: Can do, can try, search on wheelchair and give me a week or two.  
I'll do the best I can.  Send me a reminder.

SH: Last month's ride wen twell, apprciate, but lots of circling at major
intersections.  Why?  Main reason for me not inconveniencing motorists,
it's that motorists become irate, violent -- it's dangerous.

EH: I pulled over, don't like it.  At bus stop people were saying they'd
like to beat the bicyclists up.

SP: I've had the opposite, peds thank me for keeping cars from busting
through.  So to each their own.

SH: Possible to curtail that?

JM: I think the circling is okay in moderation but I feel the danger rise
if it goes on too long.  As for what we could do, maybe an announcement or
handout, but no one of us has say over anyone else.

RU: It doesn't do anyone any good.

TM: The good it accomplishes is it creates a Temporary Autonomous Zone for
1-2 minutes.

SP: It's like a sit-in, reclaim space taken from you like in a public
building where legislators are ignoring the needs of the people.

SH: Your idea of a party is to piss them off?

SP: No.  Get them to notice.  Sometimes perceived ugly but also right on.

SH: You have law enforcement there.  We don't like it.  I think we've made
a lot of concessions.  I think pretty lenient.  Motorcycles not driving
through crowd has been honored.  People recognize you [JM] as leader, you
have some say.  They don't want to hear this stuff from me.

JM: Well if I got up and spoke for you and said police are gonna rip
through the crowd dangerously again and all that if you don't..

SH: That's not what I said don't misquote me.

[JM: Note that police went back to driving in and through the crowd at the
ride the very next day, and spent their time videotaping the demonstrators
when they should have been intervening for their safety].

JM: Glad to hear it thanks for clarifying.

EH: What if there was a joint statement, together?

JM: We have the right.  But I don't like the danger.  I would direct any
comments from that.

[JM: Note, I did make an announcement (if in a trilling historic voice in
a valentine's outfit, pink dress, pink boa, etc. -- which actually seemed
to be heard and appreciated by more people than most announcements. There
were no circles the entire ride until an awkward pseudo-circle at the very
end, which was not completed but was interrupted by an assaultive, abusive
motorist.  This was filmed from the corner by two motor patrol officers
who did not intervene for the riders' safety].

OP: We are a paramilitary organization, we take orders.  If Sgt. Hester
tells us, don't drive your motorcycles through the crowd, we don't do it.  
We've made concessions.  We're asking you to do your share.

JM: Something that bothered me last month, a pickup truck ripped through
the mass and dangerously cut someone off in an sharp left turn, right in
front of officer Meredith on San Pablo, he did nothing.

SH: Not sure that's illegal.

[Much discussion of whether it's illegal, whether it's an assault, we
looked at the SF Resolution, Hester wasn't sympathetic, people pointed out
it was reckless at best, etc. and must be in violation of law].

SH: What codified laws?

JM: I will get you that.  You may not agree.

SH: You're in my ballpark now.  Just on what you said, not sure we have a
violation.  Crazy driving, sure, not admirable, but there's no law against
stupidity.

JM: [To OP, as an ironic joke] But who cares about the letter of the law.

OP: You know I bet I'd have a lot of fun going out driving in my pickup
truck in the middle of an intersection in circles, a lotta fun, but don't
you think I might get in some kind of trouble?  What would you think about
that? What if four cars did that for a minute?  

SP: At first meeting you said it's dangerous to ride a bike in Berkeley.

OP: Yes.

SP: And that people don't know the rights.

OP: I assume bikes don't know their rights and car drivers do!  Look
you're getting off on a far tangent.

SP: No, I'm --

SH: But if a police officer there, what would you want him to do?

TM: [?]

SH: You won't say it will you.

SP: Yes I'd like the plice to take action and her's why -- cars are
encouraged in every way by ads, by the system, and cars are harmful.  
Bikes are not encouraged, we need to change people's consciousness to
overcome that one-down position.

OP: So when is parity reached?

SP: When all roads safe, and all motorists know all the laws..

OP: (So in other words,) never!

SP: Should we give up?

OP: Appreciate you want to promote and express, no problem.  Your right.  
My problem: "cars can't but we can".

TM: Cars don't have the right.  It's a privilege.  We have tests, you have
to be cognizant at all times.  It's a serious thing to drive a car.

OP: you're hypocritical

JM: Moreover it's a first amendment issue.  We have a higher law, the U.S.
Constitution, what's left of it, and it takes precedence.  and in Berkeley
there's a real effort to respect that free speech right, and there's a
balancing act between the little traffic codes, the First Amendment, and
the actual issues and tradeoffs of public safety, so no, I don't think
it's hypocritical.

OP: [agrees]

EH: Circling is no good forme but useful to you guys [police] to identify
who's aggressive and violent in a car, to be there when they get out of
hand.

EH: Lots of complaints about road rage, mostly feelins hurt.

JM: Do you know how many times we have to deal with this stuff all the
time, how many people have honked swerved thrown stuff shouted "GET ON THE
SIDEWALK" etc., and there's *nothing* we can do about it, can't even make
a report. You could make it easier, this is something I've proposed in the
past, by making it easier to take a report and then by sending a letter,
think of the effect on the driver, to receive a letter from the police in
the mail, "The driver of this vehicle has been identified as having
committed these acts, a record is being made and will be referenced if you
are ever involved in a road rage incident in the future" it could have
information on rights of bicyclists and pedestrians as well [JM: and how
about how to get some anger management skills, and why it doesn't make
sense to risk people's lives for a few seconds that may actually not be
saving time even if nothing goes wrong? e.g., perception of time -- like
when a bike goes slow to a red light, you're still waiting at that red
light no matter how soon you get there].  [MORE RANT].

SH: I can deal with that. [easier to make a report, BPD sending a letter].

JM: But now, reports only allowed in the first 24 hours, and only if
ther's an injury.

TM: Yes, or is that collisions.

SH: Not sure have to look it up [typing].  We have the ability to do that
now, the discretion to write a letter, done based on officer and whether
crime occurred, how far they take it, etc.

[JM: this could be done on a statewide basis, something like
1-800-EXHAUST.  Picture California creating a new program which is
exported to lots of other states, to keep tabs on violent motorists.]

SH: Stop signs [again]

JM: Important to reiterate that wherever we talk about relaxing laws, it's
not to make anything more unsafe, but rather to help things work better.

SH: Would you all like to come out and enforce stop signs with me?  One
hour at five o'clock.  Hardly anyone stops.

ALL: We know!

JM: But there's a big difference between a bike stopping and a car
stopping.

[Discussion of yields, uncontrolled intersections in Oakland and Berkeley,
why yield for bikes would be the same as it is now because bikes have the
most to lose, and bikes still wouldn't be allowed to cause other people
disruptions cuz supposed to yield etc]

SH: Why not stop?  I have kids at home, I have good brakes, I stop.

TM: Lots more energy

JM: UCB Physicist just wrote a report, and article.

SH: We're strong, we can do it.

JM: It's bad for your knees to start and stop repeatedly.

SH: Knees?  [Disbelief].  We're strong enough.  

JM, others support that it's not acceptable.

SH: I hear you but I don't agree.

[SH borrows Co Co and Street Smarts, ends up paying TM $1.00 for the
Street Smarts, I give SH 60 cents change, tell TM to get another from the
Bike Station and give the $1 to BFBC].

JM: It would be nice to see if we can get an Alameda County version of
this CoCo book, (773) 292-0932 to order more, http://www.askmrbike.com (c)
2000 Wordspace Press.  I'll try to look into that.

[end draft minutes]


ATTACHMENTS:

1) Officer Pierantoni's rejection
2) Sgt. Hester's clarifications


[BEGIN PIERANTONI REJECTION]

---------- Forwarded message ----------
Date: Fri, 8 Feb 2002 12:24:22 -0800 
From: "Pierantoni, Casimiro" [CPierantoni-AT-ci.berkeley.ca.us]
To: 'Jason Meggs' [jmeggs-AT-bclu.org]
Cc: "Hester Jr., Wesley" [WHester-AT-ci.berkeley.ca.us]
Subject: RE: BPD MINUTES FEB. 7, 2002 

Mr. Meggs,
Just to let you know...You're quotes of what I said at the meeting are
inaccurate, incorrect, or incomplete.  I do not agree with how my comments
were represented in your minutes.  Before they are published, I would
appreciate if you added the notation that I do not agree with your
documentation of the minutes.

Thank you,
Ofc. Pierantoni #96
Berkeley P.D. Bike Patrol

[JM RESPONDS]

Officer Pierantoni:

I am sorry you feel so strongly that my minutes are completely inaccurate.  
I believe them to be very close to correct (see disclaimer above).  I
forwarded them to all parties and no one but you had this concern.  It is
ironic to consider what would happen were we to use yours and Sgt.
Hester's stated position that "there is no problem because only [this
group of bicyclists] are complaining".  But in striving for fairness, I
invite you to clarify exactly what you did say to the group, and request
any suggestions you may have for how to capture the minutes even more
fairly and accurately.

--Jason Meggs

[END JM RESPONSE]

[END PIERANTONI REJECTION]
[2. BEGIN HESTER CLARIFICATIONS]

]From WHester-AT-ci.berkeley.ca.us Thu Feb 14 17:17:52 2002
]Date: Tue, 12 Feb 2002 14:08:24 -0800
]From: "Hester Jr., Wesley" [WHester-AT-ci.berkeley.ca.us]
]To: 'Jason Meggs' [jmeggs-AT-bclu.org]
]Cc: "Pierantoni, Casimiro" [CPierantoni-AT-ci.berkeley.ca.us]
]Subject: RE: BPD MINUTES FEB. 7, 2002 

[Note: Due to the length of the letter, I have responded after individual
paragraphs for the sake of clarity and readability, and realize that Sgt.
Hester or others may have responses to my responses.  These can be
included in the next minutes.]

Mr Meggs;

I am requesting the following clarifications made to these minutes.  It
seems that your minutes this month & the previous one are fairly self
serving, and they do not elaborate much on the perspectives Officer
Pierantoni and I presented in these meetings.  In fairness, if you are
publishing this, I am requesting that you add the following additional
comments.

[JM: I am sorry if I have missed anything in particular.  Due to the
amount of repetition that has occurred, and the amount of time it takes to
prepare minutes of this detail, some things have been simplified -- notice
that I simplified my own statements at times (e.g, "RANT").  Thank you for
including a follow-up for the minutes.]
 
I am hoping to have the other information the group requested by the end
of next week.  Thanks.

1. The conversation I mentioned having recently with Ms. Carolyn Helmke
resulted in a proposal to create signage.  There is a problem with
excessive bike riding on the sidewalk, especially in congested areas. The
signage would possibly read something similar to "Ride bike in street"
Walk bike on sidewalk" to remove a negative connotation from bike riding.  
This is a work in progress.

[JM: Again, this is appreciated.]

2. My comment regarding the availability of any funds Ms. Helmke's
department possibly had was a guesstimate that perhaps there was money
within her dept's budget to possibly bear costs associated with other
general bike programs or services you asked about.  I do not know whether
she or her dept has the ability to spend add'l City funds now.

[JM: This is of course a given, and the minutes continue to reflect that
you stated it as a possiblity. I have written Ms. Helmke with regards to
this issue. ]

3. Our Dept's posture regarding a Bike Diversion Program is as I said, but
what I meant was that the BPD would not actively seek or manage such a
program.  There are many reasons for this that I did not go into, but they
center around the issue of costs and staffing.

[JM: I have just learned to my great sorrow (from David Campbell,
president of the Bicycle-Friendly Berkeley Coalition, who I saw at a
Planning Commission meeting last night, Feb. 13, 2002 regarding the South
Side plan) that your Department nixed an advocate-lead grant effort to
secure money to help BPD implement a diversion program.  It is sad that by
refusing to write a letter, the BPD has forgone an opportunity to join so
many other police departments throughout the state in beginning to truly
make bicycle safety a part of their program by creating bicycle diversion.  
As the Department refused to support this effort with a simple letter
(also reflected in recent minutes), perhaps cost is not the concern, I
hope you can clarify that at some future date.]

4. My conversation with Judge [sic] Rantzman: he reported the recent
findings of the Traffic Subcommittee that the courts would not adopt a
diversion program for adults; possibly would consider one for juveniles.  
We didn't discuss their voting.

[JM: Thank you for the clarification.  You did repeatedly refer to a
"unanimous" decision, which implies voting, I attempted to clarify what
you meant by this and evidently it was left somewhat unclear.  I hope that
with more information the Commissioner and the others on the Traffic
Subcommittee will take heart on the large number of bicyclists using our
streets and see the value of proactively making bicycle safety and
education a part of traffic enforcement.]

5. Regarding Judge [sic] Rantzman's court, in my experience he usually
reduces any fines levied against bike riders.  He has been more lenient to
them than he has been for motorists (my experience.) (I am probably in
traffic court more often than any motorist, pedestrian or bicyclist)

[JM: I'm glad you think so, but I continue to ask that this be studied and
addressed.  I've had the opportunity to sit in on Commissioner Rantzman's
court too many times, I even have a bad decision of his on videotape which
I submitted to City Council some years ago.  I've watched numerous
motorists be let off or given sweetheart deals while bicyclists were given
no leniency even when pleading guilty with an explanation -- perhaps
Commissioner Rantzman's explicitly stated bias (along the lines of what
you said, included above, but also stated in court) against people who get
multiple citations -- which it follows, aids and abets selective
enforcement wherever it may occur -- was at work.  Or, perhaps
Commissioner Rantzman simply modifies his behavior when I am in his
courtroom.  That wouldn't explain the other persons' anecdotes and
experiences I have heard, but anecdotes do not provide a complete picture.  
This is one of many important things which could be more accurately
investigated and understood with sunshine on the city's traffic case
records -- information which the BCLU has formally requested for years and
which nevertheless, still has not been produced.  I respectfully request
that we stop drawing conclusions based on anecdotes and get the solid
information of record if it exists.]

6. Regarding traffic stats, Ofc Meredith didn't have the accident on the
motorcycle, but Ofc Bartilini did.  From what I learned, Bartilini is
storing the stats you requested and Meredith will need time to access the
data. Meredith is one of two non-injured motor officers.  The others are
all injured either by accidents or other injuries and this has hampered
staffing in the Traffic Division.  The Traffic Bureau itself received an
increase in staffing by Council many years ago, and collectively they help
promote general traffic safety by enforcing mainly speed and pedestrian
related violations.  In addition, they seek to investigate all injury
collisions that happen during the day or evening.

[JM: Then I must have misunderstood.  I was quite surprised to see Officer
Meredith on his vehicle the next night, thinking he had just suffered a
dislocated shoulder.]

7. Regarding officer use of "Discretion", we had a very long conversation
about this.  During this discussion, Officer Pierantoni made a series of
comments to everyone, asking about a bicyclists "personal responsibility"
to obey the law.  He asked everyone when this responsibility would become
accepted by the bicycle community.

[JM: We have had quite a few substantial discussions of this, but the
issue has not been resolved given the interest at the last meeting (see
above) and the lack of any changes in the General Orders, etc.  As for
personal responsibility, I felt this was adequately addressed given the
scope of the meeting, and I understood Officer Pierantoni to agree with my
position on this, and felt that Taj Johns of the City Manager's office
also appreciated my position that we need to do whatever we can to
increase understanding and education, as society is currently failing to
educate our bicyclists.  But now Officer Pierantoni has given a complete
rejection of his comments, and you are expressing a concern, so the matter
remains open. I would be happy to continue discussing this issue,
particularly if it will lead to positive understanding and positive
initiative on behalf of the Department.]
 
Regarding the use of discretion, I made it clear many many Law Enforcement
officers utilize discretion when writing tickets.  In a nutshell, as you
know our policy allows an officer to utilize discretion when deciding to
issue a ticket.  There are no clear cut rules on who gets a ticket or who
doesn't.  When contemplating the issuance of a ticket, officers may
consider things such as:
 
- the nature of the violation, 
- the number of times the person may have broken the law, 
- the circumstances surrounding the violation such as traffic, time of
  day, speed, hazards present
- attitude of the violator, etc. 
- the weather (rain, etc)
 
Some officers write more tickets than others.  Some don't write any or
write very few.

[JM: I will reiterate that specific policies, goals, and General Orders
can make a huge difference in overcoming the many problems that have been
seen.  I invite you to read the proposal which was developed at length for
presentation to the police Department quite some time ago, and which two
series' of meetings (including these) have failed to see implemented by
the Department.  Perhaps we can discuss seriously implementing those
proposals at the next meeting.]

Not all people are the same obviously.  But, regarding traffic enforcement
my general experience (over 24 yrs of law enforcement) is that most people
(pedestrians, bicyclists or drivers) will NOT change their behavior unless
the police (1) cite them, or (2) lecture them regarding what they did
wrong. I have personally lectured violations who have already been
lectured by other officers.  To some violators, the fines don't matter to
them.  This is expecially true for some parking tickets we see.  Many
violators feel as though running into a cafe is justification to briefly
park in a bus zone, etc....

[JM: I'm glad you think there's something which can change behavior.  
Changing behavior is a big part of the goals which are being put forward.  
Requests for more equitable enforcement based on public safety criteria
have been repeatedly made.  There is a big problem when citations and
enforcement are performed in order to discourage public participation and
to discourage the exercising of Constitutionally guaranteed rights such as
free speech rights, or more broadly, to discriminate against entire
classes of travelers for political, or financial gain.  The City
explicitly intends to encourage bicycling.  Mistreating bicyclists changes
behavior by discouraging bicycling.  There is a lot that the police
Department can and should long ago have done to help ensure this, and it
doesn't all cost money -- indeed it can save money.  There's no question
that doing so is in keeping with fulfilling your Department's mission.]

Every officer has his or her style, but their responsibility to the City
and State is "Enforcement" however it occurs.  In these circumstances
outlined above, absent other factors or concerns, there is nothing wrong
with an officer either writing a ticket "every" time contact is made or
lecturing the violator "every" time.

[JM: Thank you for your discussion of discretion, I hope it is helpful to
those who have been following these meetings.  I believe that in the
numerous times we have discussed this, you have made these points
generally and I believe the minutes reflect that.  ]

[JM: In closing, I believe this is the most extensive written document on
this effort which we have ever received from you.  I hope you will
continue to put effort into developing materials, writing letters, and
otherwise taking action to accomplish what should be everyone's shared
goal of creating a more livable, safer, healthier city.]


[END HESTER CLARIFICATIONS]





---
Back to the Bicycle Civil Liberties Union.

Back to the Bike the Bridge! Coalition.