CAR-FREE MONTH!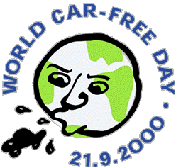 World Car Free Day


                                 Note, this page regards the year 2000 but is still pertinent  
                                 Special for 2007: SF Critical Mass rejoices in its FIFTEENTH Anniversary. 
                                  "15,000 on the 15th," on Sept. 28th. 

CONCEPT:

Anti-car festival of actions, teach-ins, and events!

Momentous international and local events are occurring
in September!

Celebrate and support those who wish to live car-free.

Remember those who have been disabled or have lost their lives.

SAN FRANCISCO BAY AREA:

EVENTS:


Friday, September 1st -- Memorial for Rebecca Kresse, killed by road raging MUNI bus driver in 1998. 8 PM at 24th and Valencia in San Francisco. Bring candles, flowers, and decorations for the memorial site. The East Bay Women's Ride occurs on the same day and a contingent will ride there and then take BART to the memorial. Also, gather at the mini-mass in San Francisco at the foot of Embarcadero, from 5:30 on to ride to the memorial site.
Saturday Sept. 2, Car-Free Moving Party in San Francisco.

Anniversary of the senseless killing of Cecy Krone by a severely drunk and road-raging driver. A memorial ride is being planned in Marin. The ride to Cecy's Hill will start from San Anselmo Coffee Roasters in downtown San Anselmo at 10am, September 10.
Katie Alvord, author of "Divorce Your Car!", will be at the Sierra Club bookstore, on Tuesday September 5, at 7:30.

She has lived car free for eight years and wrote the book to encourage others to change their behavior. The book is about her experiences ending her love affair with her car and the benefits that followed. She will discuss her book and sign copies. RSVP 510-658-7470.

The bookstore has copies of the book to sell and is located at 6014 College Avenue, close to Rockridge BART station. Club members get a 10% discount.

Other times/places in the area:
Los Gatos, CA: Borders Books, 50 University Ave. #80 Thursday, August 31st, 7:00 p.m.
San Francisco, CA: Modern Times Bookstore, 888 Valencia St. Wednesday, September 6th, 7:30 p.m.
Sebastopol, CA: Copperfield's Books, 138 N. Main Street Thursday September 7th, 7:00 p.m.

Party in a superb outdoor location after Berkeley Critical Mass Friday September 8. Berkeley Critical Mass, gathers at 5:30 to leave after 6:00 PM from the Downtown Berkeley BART

Friday-Sunday September 8-10 prime bridge biking season (anniversary of the BART strike and major rides across the Bay Bridge)
Sunday, September 10th -- Solano Stroll parade in Berkeley -- join the car-free celebration contingent! Decorate your bike for this parade as well as the How Berkeley Can You Be? Parade from 1-4 pm at the HUB: Center for Appropriate Transport (HUBCAT), 1336-C Channing Way, Berkeley, just two blocks west of Sacramento Street (closest to downtown Berkeley BART). The day of, gather at 10 am at Solano and Fresno Streets.
Wednesday, September 13 -- 101st anniversary of the first person killed by automobile in North America. Join the international Remember Bliss Campaign by holding a vigil or organizing an action.

Gather at 12:30 PM on the steps of the Metropolitan Transportation Commission (MTC) to expose their role in creating car dependency and death by automobile. MTC is located across the street from the Lake Merritt BART station in Oakland.

Thursday, September 14th: WILL WE EVER RIDE THE BAY BRIDGE?: If you think bicyclists and pedestrians should be allowed on the Bay Bridge in our lifetimes, please join this one-time-only public meeting to influence the development of the Bridge path. Mark your calendars: Thursday, September 14th, 6pm-10pm, at 505 Van Ness Avenue, the PUC Building cafeteria. We also want to alert bicyclists on the streets to this important meeting, so call Mary at 431-BIKEx1 if you can help pass out flyers.
Saturday, September 16, evening: Saturday, September 16 Car-Free Month Bicycle Teach-In and Potluck 463-61st St., apt. A (just east of Telegraph) 5:00 PM food and mingle, 7 PM presentations Join us for a vegetarian pot-luck dinner and teach-in. Speakers include Jen Collins of BFBC discussing the Global Petroleum Industry, Bill Mitchell, pedicap pioneer, describing ten ways to bike to Santa Cruz, and Alan Van Tress (bicycle telephone with a thrilling slide show of the Kinetic Sculpture Race. This event is part of Car-Free Month, a month to honor and support those who live car-free.

Note that this is NOT at Alan Van Tress' house any more, as was previously advertised.

Tuesday, September 19, 2000 -- probably after 8:30 PM. Berkeley City Council considers the following resolution tonight!

Actions are being planned for the North American Broadcasters (NAB) convention in San Francisco, September 20-23. Who are one of the biggest pushers of the automobile? The corporate media. Contact: www.mediademocracynow.org or contact Samantha at (415) 546-6334 x301, jobfile-AT-media-alliance.org.
Thursday, September 21 -- WORLD CAR-FREE DAY!!!
Learn more about the international campaign at the Car Busters Magazine website.

Amazing action: sport-utility bikes surround the NAB conference! They're legal, they're fun, and when a bicycle takes up as much space as a car it makes quite a statement! The Moscone Center, 747 Howard Street (at Third, closest BART Montgomery), San Francisco, 8:00 AM. Materials provided, allow 20 minutes for set-up. Bring flags if you can.

Saturday, September 23 -- Rock Out! planned all over San Francisco to protest the massive eviction of music spaces. At 1 PM, bands will go live all over San Francisco on city street corners.
Towards the end of September, BLOCK PARTY DAY has been proposed -- work to get your City to expedite block parties on one weekend, waving the fee and promoting it in the press.

Sunday, September 24th -- "How Berkeley Can You Be?" Parade, 11-5 PM. Bike/car-free contingent: meet at 10 AM at the corner of University and Sacramento.
Sunday, September 24 -- BICYCLE FILM FESTIVAL at the 5th anniversary of Bicycle-Friendly Berkeley Coalition (www.bfbc.org). BFBC membership appreciation party beginning at 6-8 PM. Film festival follows until 10:30 PM. Members get in free, non-members sliding scale $10-$20, with discount on membership at the door. Location: Pyramid Brewery and Alehouse, 901 Gilman St., Berkeley
Monday, September 25 -- this is the actual birthday of Critical Mass, which started in San Francisco on Friday, September 25, 1992 and has since spread around the world.

Tuesday, Septemeber 26 -- Reclaim the Streets!!! Global Day of action ( IMF/WB in Prague). Gather 6 PM Berkeley BART. Contact: rts_eastbay-AT-yahoo.com, telephone: (510) 594-4002. Check out the SF Bay Area RTS web pages.
Friday, September 29, 2000 -- Critical Mass' eighth birthday ride. Gather from 5:30 PM on at Justin Herman Plaza (near the Ferry Building, Embarcadero BART, and the Transbay Transit Terminal at the foot of Market), to depart sometime after 6:00 PM.
Wednesday, October 4th, 7:00-8:30. Green Cities Focus: Election Special. October 4th is International Walk Your Child to School Day, which is one reason that's the day a special forum for Berkeley Cable Access, BTV-25, has been scheduled. If your group would like to participate, please contact the BCLU at (510) 273-9288 or the BFBC at (510) 549-RIDE. City Council candidates will be in the spotlight from 7:00-8:30 PM. How will they help build a livable, ecological city? Do they support car-free housing, bicycle boulevards, etc.? How about the Ecocity Amendment to the General Plan? In the USA, 30 years ago 2/3 of children walked or biked to school. Now that number is less than 10%.

Submit your own event! Email jmeggs-AT-bclu.org

PLANNING MEETINGS:

Every Monday from 6-8 PM in Berkeley at Au Coquelet cafe, throughout
September.  Au Coquelet is located at Milvia and University, SE corner. 
 
Reclaim the Streets:  Thursday, Sept. 7th, 7:30 PM, at the Infoshop.
3124 Shattuck Avenue, two blocks east of Ashby BART, across from 
La Pena at Woolsey.   (510) 540-0751.  Props-making Sept. 24, 1-4.

ONGOING:

Friday September 1st, The East Bay Women's Ride, gathering 6:30 to leave at 7:00 at Mama Bear's Books, Telegraph near Alcatraz, not far from MacArthur BART

Friday September 8, Berkeley Critical Mass, gathering 5:30 to leave around 6:15 at the Downtown Berkeley BART

Friday September 29, San Francisco Critical Mass, gathering 5:30 to leave around 6:15 at Embarcadero Plaza (near Embarcadero BART, the Ferry Building, and the Transbay Transit Terminal).


Note that these events are not necessarily sponsored or organized by the BCLU.

MORE INFO:  (510) 273-9288 (510-"CREW-CUT")
Note, the CREW-CUT hotline is no more; as of Sept. 13, 2007, call (510) 725-9991. 

Car Busters -- an excellent magazine!  www.carbusters.org

Car Free Cities -- an excellent book and website! www.carfree.com. Enjoy this review. 

How-to Guide for a Car-Free Day, only for the serious:  http://www.ecoplan.org/carfreeday/

Press releases: click here.

Car-Free Month in the press:

     1) Berkeley Daily Planet
     2) SF Bay Guardian (unpublished).


---
Back to the Bicycle Civil Liberties Union.

Back to the Bike the Bridge! Coalition.