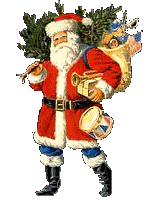 Merry Bloody Christmas!
The trees cry in pain as our world passes away
the topsoil leaks through our greedy grabbling fingers
the land is quickly sliced from life by the
terrible swift sword of roadbuilding 
and the ruin which follows in its wake;
and in the richest nation in the world,
the worship of death culminates in this
sordid ritual of dominance over the earth:

   "CHRISTMAS" 

-- a sick and twisted perversion and cooption of the
harmonious nature-respecting ceremonies of the past
for the sake of social control and exploitation.

But the trees -- and you, dear creature --
do not have to die silently.

The trees which are used in this necrophiliac 
ritual of bloodletting and waste are thrown
to the curb;  "bring out your dead!"

But the curb, my friends, is but one hop away
from the streets.

AND IN THE STREETS IS WHERE CHANGE BEGINS!


Trees join SF protests for human rights (Jan. 2009).


Tales from the Streets:
Revolt of the Christmas Trees, a recent film based in Berkeley, Califonia.
WATCH IT ONLINE AND COMMENT!

Trees to take to the streets January 9, 2009, Berkeley, CA. PRESS RELEASE

Save the Oaks, 21-month treesit on the UC Berkeley campus. Lawsuits continue in 2009.

Reclaim the Streets reports a tree solidarity action in Berkeley Sunday January 28, 2001.

Striptease to Save the Trees!, also a video from Earthfilms.

Radioactiveman reports being abused by police on his bicycle while trying to help a tree at Berkeley Critical Mass. They even illegally confiscated his two-wheeled nonmotorized steel steed!

Gathering reports of Christmas trees leaping from the curb to take the streets, for 2001. Send yours now to treerevolt@gmail.com.

Burning Tree 2001, a lively debate and report back.

Burning Mass 1999 photos courtesy of Sean Brennan.

Winky's ethical approach -- "our little forest of love, three trees and growing".
Resources in the resistance:
The Christmas Resistance, www.xmasresistance.org

Revolt of the Christmas Trees, a recent film based in Berkeley, Califonia.

Reclaim the Streets! is famous for no compromise reclamations of the asphalt rivers for people rather than machines...and also for trees! In the UK at one major party/protest rally, activists tore up the M11 unfreeway and planted TREES!!! In the San Francisco Bay Area, check xinet.com/rts/

Adbusters! -- always a wondrous resource for all things anti-consumerist.
Propaganda sites of the industry and its puppets:

TREE SURFING!? IS THIS PRO CAR OR PRO TREE OR A DIABOLICAL PLOT BETWEEN THE TWO?

Injury from tree surfing using car.

In the larger picture of deforestation:
---

Contact us!  Send us your stories!
treerevolt@gmail.com